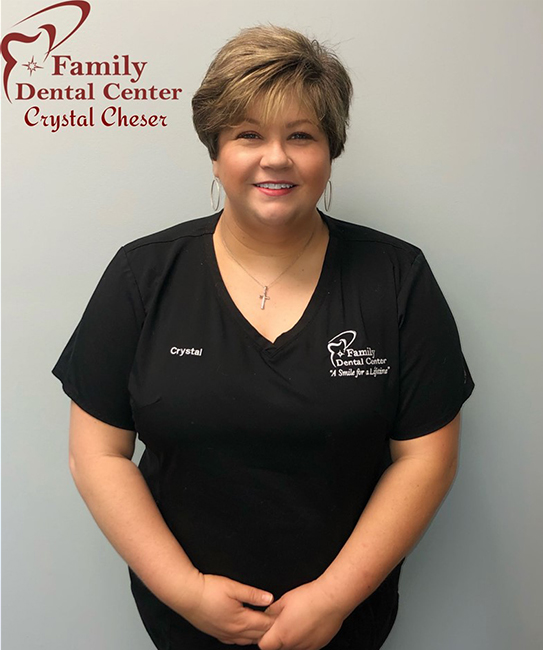 Introducing: Crystal Cheser
My name is Crystal Cheser and I am the Assistant EDDA Supervisor. I have been at Family Dental Center for 12 years. I chose the dental field because I wasn't happy with where I was in life. I heard an ad on the radio and something clicked. At that moment; I believe God led me to dentistry. I like to sing to my patients, even though I don't sing well at all. (I tell my patients that I can't sing or draw but I can make a pretty tooth.) I was raised in a small town called Eminence; where cruising was the highlight of Friday and Saturday nights. I have a son, who is pretty much grown now, but he is the light of my life and he was the motivation for me to be better person. I also have some fur babies, two dogs and one cat; Roxanne, Scooby and Jasmine the cat (she rules the house). In my free time I enjoy playing video games with my son, going out to eat with friends and am looking for a new hobby!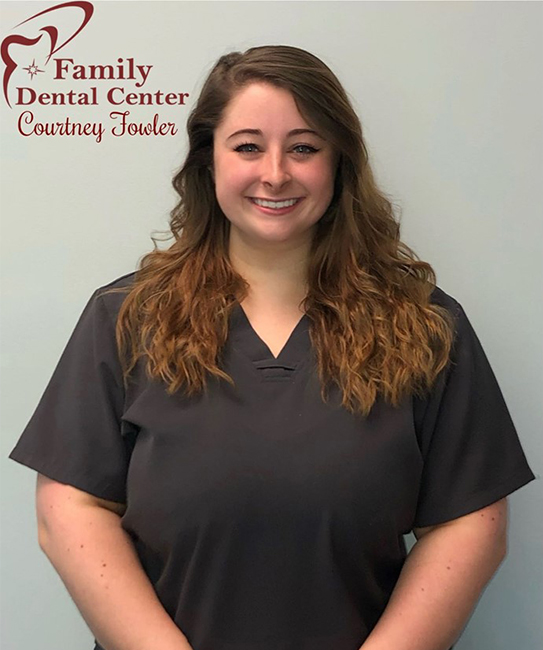 Introducing: Courtney Fowler
Hi! My name is Courtney Fowler and I am an EDDA at Family Dental Center. I have been at Family Dental Center for 2 years in August. I chose the dental field because my step-mom and my sister both have worked in the dental field and both as dental assistants and lab techs. It really caught my attention and interested me. I thought I'd leave my previous career as a teacher and try something new! I haven't looked back yet and I look forward to the future! Some other things to know about me are; that I live in Georgetown, Kentucky but that is neither where I was born nor where I grew up. I was born in Somerset, Kentucky which is where I lived until I was in the third grade. After the third grade I moved to Tennessee for a year and eventually ended up in Santa Claus, Indiana. This is where I lived from elementary school all the way until my college years. I met my husband in high school and he eventually got a job at Toyota which is how we ended up in Georgetown! I love to watch movies and hang out with my friends and family in my spare time. You can also catch me hanging out with my many animals that I love! I have 3 dogs; Charlie, Daisy and Chief and one cat; Luna! Thanks for taking the time to read a little bit about me and I look forward to getting to know as many of our patients at Family Dental Center as I can!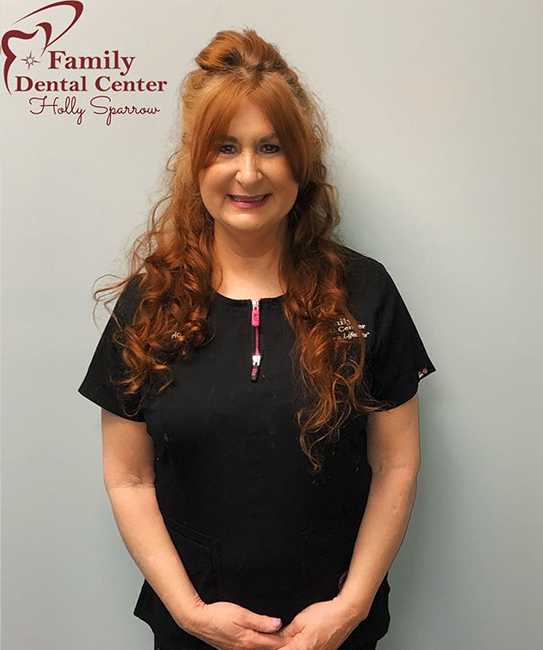 Introducing: Holly Sparrow
Hello, my name is Holly Sparrow! I am one of the EDDA's who keeps things flowing. I've been in Dentistry for 42 years. I love what I do and I love to make people smile. Serving my patients is my passion! I have been at Family Dental Center for about 10 years and I also was with the practice in 1981 when the office was first established. I left for a while and decided to return to FDC to retire. I am very proud to work with our great doctors and wonderful team! We all have the same passion to serve. I have developed lifelong friendships through my time at this office. It is a GREAT team! During my off time I love to spend it with my fur babies, family and working-out. I have a dog; Valentine and 3 cats. I also love to be with my family, who always comes first. I spend a lot of time with my 90 year old mother and I love fitness! It is very important to me. I have a beautiful daughter that shares my passion and is also an EDDA. I recently got married to my friend from High School 40 years later! Life is short and I live it to the fullest! I'm very blessed and I can't wait to meet you when you come to FDC. Welcome!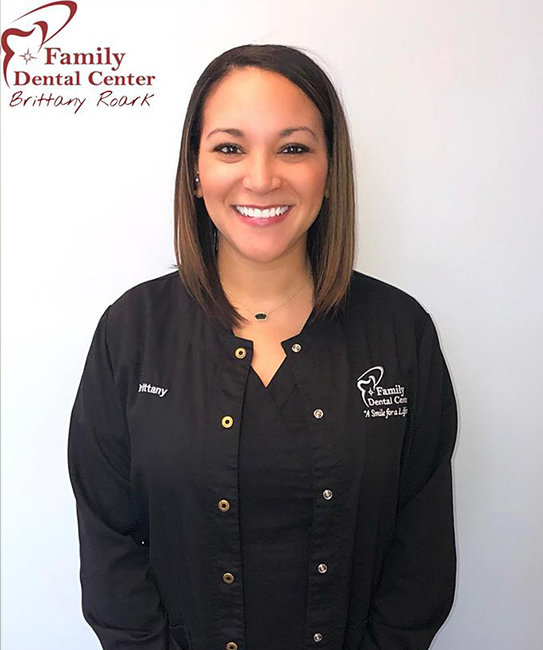 Introducing: Brittany Roark
Hey everyone! My name is Brittany and I've been with Family Dental Center for 5 years now! I am a Surgery Assistant and I absolutely LOVE what I do! I've always had a passion for helping others and what better way to help someone than to help them with their smile? I have a 10 year old that keeps me busy and in my spare time I enjoy spending time with my family, friends, traveling and watching the boys in blue (GO CATS!!) Thanks for taking the time to read a little about me! See y'all soon :)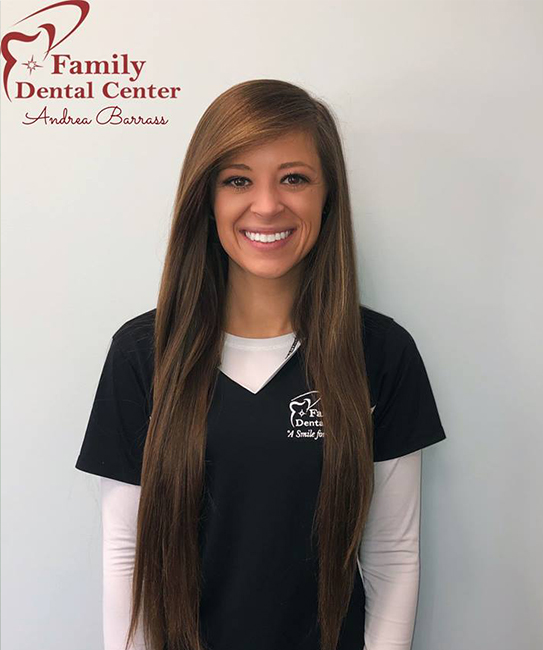 Introducing: Andrea Barrass
Hello everyone! My name is Andrea Barrass and I have been an Expanded Duties Dental Assistant at Family Dental Center for two years now. I absolutely love what I do. I've always had a passion for making a difference in someone's smile. I have been through a lot of dental work myself, and can understand what patients go through to get your ultimate goal for your smile. You will usually see me with Dr. Peters and Brittany doing surgeries. (Surgeries are my favorite) But, if you happen to see double of me, you are probably right because we just recently hired my twin sister, Alicia! I'm so excited to have her on our team! My birthday is March 17th and I was born in Lexington, KY but moved to Frankfort a couple years ago. In my time away from FDC, I am still in school to expand my knowledge and future in the dental field so I am usually studying or spending time with my husband, Ryan. I also love fishing, hunting, going to the lake, anything outdoors and spending time with friends and family! I look forward to meeting you all!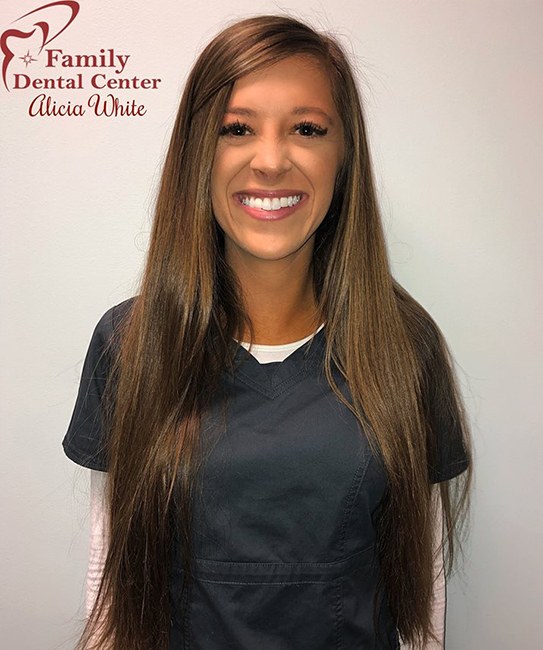 Introducing: Alicia White
Hi! My name is Alicia White and I am new to the FDC family as a dental assistant! I have been in the dental field for 3 years now and was in orthodontics prior. I became interested in working in the dental field at a young age. I spent a lot of time at the dentist and I always remember how comfortable the staff made me; and I wanted to provide that same hospitality to other people who might feel uncomfortable at the dentist! My birthday is on St. Patrick's Day! I share birthdays with my twin sister. I am one minute older and two inches shorter. & she also works at FDC! I grew up in and am from Lexington, KY. I have one puppy dog named Bentley. In my free time I love going to my lake house, working out, and spending time with friends and family! I look forward to working with y'all; thanks for reading a little bit about me!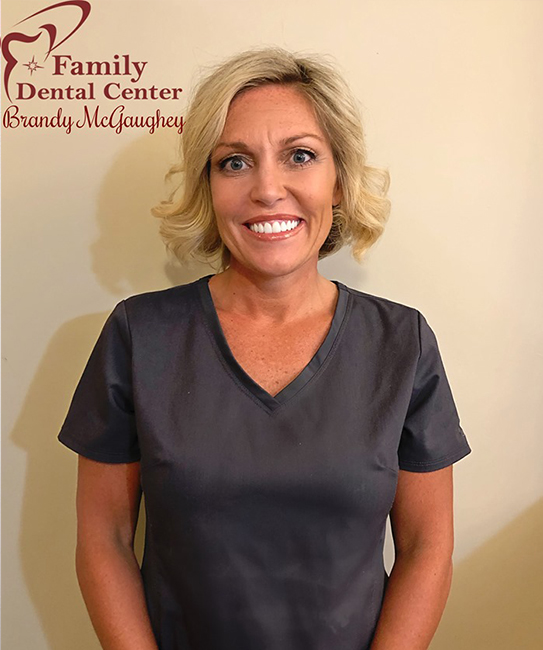 Introducing: Brandy McGaughey
Hi! My name is Brandy McGaughey and I have been in the dental field for 28 years and have been at Family Dental Center for the past 7 months. I started working in a dental lab as a teenager and always wanted to help people! I grew up in Frankfort and live here today after a 20 year hiatus in Louisville. I have 3 wonderful children; Bella (10), my sweet intelligent swimmer, Saylor (16), my handsome clone and my big hearted goofball, Cayse (21), who will be a Senior at UK and attending Law School after he graduates. I have 2 dogs; a Pitbull rescue and a Havapoo. I also have 2 cats; Scooter and Ava who keep the snakes and mice away from my river house. After my children and work; I love to spend my time anywhere on the water and making people laugh and smile. It's my favorite!!!